After the recent controversies surrounding the relocation of hospital structures to Dublin, Doctor John Wallace recalls the formidable social and religious forces encountered by the Rockefeller Foundation when it attempted to bring its particular vision of scientific medicine to Ireland
SScience can become the focus of significant cultural, denominational and financial tensions. Throughout the 19th century, the main function of the university system in Ireland was to produce doctors for the Royal Navy and the colonies. The 1901 census showed that there were 1,331 medical students in Ireland. With career opportunities limited, medical posts throughout the British Empire were sought after by the 250 students graduating each year from Ireland's six medical schools.
standard oil
The Rockefeller Foundation was a wealthy and formidable agent of change that wanted to promote science throughout the British Empire. This American philanthropic organization focused on training college-educated, science-oriented physicians.
In 1913, John D. Rockefeller Senior of Standard Oil left the cutthroat oil distribution business and began to apply his rigorous business methods to philanthropy. Rockefeller Senior, whose father had been a "traveling doctor", was fifty-seven when he began giving away his fortune of four hundred and eighty million dollars.
Influenced by William Osler Principles and Practice of Medicine, Foundation members came to believe that medicine was poorly taught. The modernization of medical education has become their primary objective.
The Foundation gradually evolved from an amateur Baptist charitable organization to an agent of rigorous and scientific philanthropy. In doing so, he became increasingly suspicious of "sectarian Christianity".
The Rockefeller Foundation
Trustees of the Foundation were drawn from the upper echelons of medicine, education and banking. They would not act on a matter until it was thoroughly investigated. All proposed interventions were then planned with measurable objectives.
The Foundation believed that success in solving health problems depended on a positive attitude towards science. This improvement depended on the interaction between hospital, university and research. Their ideal was Johns Hopkins in Baltimore.
To achieve its goal, the Foundation wanted hospitals to be located close to university medical schools and staffed with full-time faculty. Prior to this innovation, medical schools were often trade schools, with the university, hospital, and medical school seen as separate entities.
University College of London
Doctor Alan Greggadvisor to the Foundation, was the son of a Congregationalist minister who wanted to influence medical education in London and Dublin.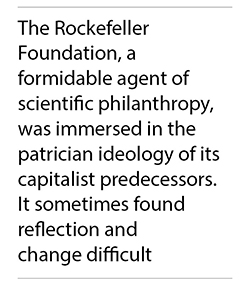 The Foundation has achieved its ideal in London with the combination of University College, University College Hospital and its medical faculty into a single scientific unit. This union was funded by a donation of over a million pounds from the Rockefeller Foundation.
In 1924, the Foundation considered transferring its laboratory-based model of technical education to the complex social, religious and cultural environment of Irish medical schools.
A Foundation survey in 1925 concluded that there were too many medical schools and too many part-time staff. The aim of Irish medical education seemed to be the training of versatile general practitioners who would serve throughout the British Empire.
Alan Gregg was an expert in comparative medical education who always "liked to see for himself". He organized a long trip to Ireland to find ways to develop scientific medical education.
Irish medical schools
Gregg was very critical of what he found in Ireland. He thought Irish medical schools were, at best, "respectable", but not capable of doing progressive research. Irish independence had led to a crisis in research funding, particularly for Trinity. Gregg believed that the new Irish government would favor University College Dublin. The whole region was full of religious and political tensions. Medical education was not just about education. It touched on deep emotional attachments.
Nevertheless, in 1925 the Foundation began funding large, discreet travel grants for Irish physicians. Gregg wanted to do something more substantial, but he thought Dublin hospitals should be under academic rather than religious control. He also wanted cooperation between the medical faculties of University College Dublin and Trinity.
For Humanity
However, there were exceptional difficulties associated with medical education and practice in Ireland. The proposed cooperation challenged underlying social, cultural and religious alliances.
An obstacle to the Foundation's plans was that Trinity College wished to continue producing competent generalists, rather than research-oriented specialists. The small, Protestant, non-denominational hospitals associated with Trinity viewed their diversity as an advantage and valued their long-standing cultural associations.
Complex policies had emerged in Scotland and Spain in opposition to the efforts of the Foundation. The Foundation wanted clinicians to become researchers, but it was not a familiar educational model at the time. Many hospitals in Ireland were staffed by part-time doctors and were completely independent of universities.
Trinity and UCD
The Foundation has agreed to offer funds but on the condition that there is consistent and real co-operation between Trinity and University College Dublin. A committee was formed with representatives from the five hospitals associated with Trinity, as well as representatives from "the two major hospitals belonging to religious orders". The two universities met and developed a joint submission to the Foundation.
In 1928 Gregg made a return visit to Ireland. However, he was unimpressed with what appeared to be a cosmetic display of unity. There appears to have been no exchange of students, finances or administration.
The religious blocks would be retained. The purpose of the exercise seemed to be the sharing of Foundation money between the two universities/religions.
The Foundation was taken aback by the intensity of the religious and political divisions it encountered. Medical school administrators did not understand the Foundation's pragmatic and forceful approach to fundraising. They did not realize that the Foundation did not operate on a charitable principle. He favored the strong over the weak.
Cracks in the foundation
The Foundation wanted to export an understanding of laboratory medicine to Dublin. The local medical culture, however, emphasized healing and individualism. Like Edinburgh, Dublin favored clinical insight over technology.
Professor T. G. Moorhead at Trinity praised the "ancient tradition" of Trinity Medical School and the noble culture of small hospitals that catered to local conditions. They did not want the change as they proved to be doctors trained in practice and suited to the needs of the Empire.
Irish Hospital Competition
In 1928 the Foundation was defeated in its plans for widespread reform of Irish medical education. However, he continued to assist many Irish doctors with much sought-after travel and residency grants. In 1933 Gregg was aware that the new Irish competition could provide a new source of funding, offering 5% of its proceeds to medical research.
New science in old countries
The Rockefeller Foundation, a formidable agent of scientific philanthropy, steeped in the patrician ideology of its capitalist predecessors. He sometimes found reflection and change difficult. In 1933, we regret that the Foundation withdrew its offer of $105,000.
Rockefeller's goal was to promote medical science without regard to "age, sex or creed". Nonetheless, there were mutterings about the Foundation's "proselytizing" origins and its attempt to overthrow Irish "nationality" through outside financial assistance. Allegiance and nationalist sentiment proved too daunting.
Money could not erase old antagonisms. Science was not neutral. Nor was it independent of the old covenants.
In bringing new science to old countries, even Alan Gregg came to recognize that the Foundation could not detach medicine from social, cultural and religious influences.

Author
Doctor John WallaceDPhil (Oxon), Rewley House, University of Oxford.